"How very little can be done under the spirit of fear." ~ Florence Nightingale.
On the 200th anniversary of Florence Nightingale's birth, May 12, 1820, her achievements resonate with us more now than ever as present-day health care workers face the novel coronavirus pandemic. Florence Nightingale was a British social reformer, coming into prominence during the Crimean War in 1854, where her improvements to the sanitary conditions of military field hospitals, and subsequently increased survival of injured soldiers, were the foundation of modern-day nursing. Florence dedicated her life to improving health care, she became a figure of public admiration, young women aspired to be like her… thanks to Florence Nightingale, nursing came to be viewed as an honourable vocation.
Thank you to front-line workers
CAHN executive would once again like to acknowledge and thank all our front-line workers amongst the membership. As Canadian provinces begin to slowly 'open up' and attempt returning to a new normal, we know many of you are still very much at risk and this move will bring many different stresses to your personal and working lives. Please continue to look after yourselves, follow all the necessary precautions in order to stay safe and healthy.
Many other health issues have been adversely affected as COVID-19 has been, and is currently, the health care priority; hepatitis C testing and treatment being one. Many clinics and practitioners have changed focus virtually overnight, adapting within health care guidelines while still managing to respond to their hepatitis patient/client needs in a respectful and proactive manner, sometimes within very restrictive circumstances. Nursing resilience and innovation has contributed to many successful transitions.
CAHN is looking forward to new ways of networking and offering educational support to our members as we navigate these next months. Upcoming conferences for the remainder of this year, and possibly into next year, will look very different. We, as an executive, have been discussing creative ways to connect and provide educational support while still hopefully creating collegial memories for our members. As always, we welcome any input you may wish to offer!
Lastly, and most importantly, we have as a country managed to avoid overloading our health care system. Everyone has contributed both professionally and personally… thank you, and well done to you all!
A hepatology nurse on the COVID-19 front lines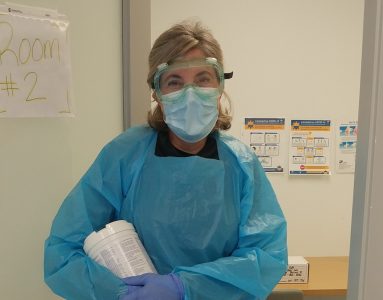 Lesley Gallagher, CAHN Vice President & Education Chair, works as a hepatitis C nurse clinician at a clinic in Vancouver's inner-city within the Vancouver Coastal Health Authority, and in Saskatoon, for the Saskatchewan Infectious Disease Care Network (SIDCN).
I have worked as a nurse in the Downtown Eastside of Vancouver, or what we call DTES, for almost 20 years, first for the University of British Columbia and now for the Vancouver Coastal Health Authority, based at Pender Community Health Centre.
My specialty is hepatitis C (HCV) clinical support, and I have been extensively involved in HCV research, throughout the treatment evolution. However, my day-to-day activities have now changed. The novel coronavirus disease (COVID-19) hit Vancouver and overnight the frontline clinics had to switch gears. We are now doing everything we can to prevent, protect and test for COVID-19. But, hepatitis C care must continue for people on treatment and for those who are ready to start treatment.
Testing sites pop up around the DTES
A COVID-19 testing site has been established in the DTES where I now work four days a week. The daily team is staffed by three nurses, an administrator and a security person. Screening, assessment, education and testing for the virus are provided with follow-up test results within 24 hours.
This low-barrier testing site opened in early April and offers services daily from 9 a.m. to 4 p.m., seven days a week. Prior to this, testing referrals were being coordinated through the STOP HIV/AIDS program, with patient information being sent to B.C.'s public health authorities. Confirmatory testing was then scheduled with appropriate follow-up care.
However, as testing became decentralized, the DTES testing site was created on the spot – with great attention to infection control and infrastructure – to offer testing for symptomatic individuals and those who may have had possible exposure, regardless of symptoms. Testing for COVID-19 is now provided at several inner city clinics, as well as at the designated testing site. STOP HIV/AIDS deploys a testing van to various locations throughout the DTES, seven days a week.
Working triage at the front of the clinic
On Fridays, when I'm not at the COVID-19 testing site, I have been assigned to the triage team at the front gate of the Pender Community Health Centre. I work with an infectious disease physician and a broad range of healthcare professionals at the clinic. Nurses with experience in hepatology are a critical part of the care team because we know which patients are planning, starting or currently accessing hepatitis C treatment. The nurse knows who needs lab work, who requires an escort to an ultrasound appointment, or who needs a physician consultation. The more familiar a nurse is with the purpose of the visit, the fewer delays and inconveniences occur.
During the COVID-19 pandemic, infection control concerns allow for only one physician to be designated to see patients face to face on a given day, when necessary. Although three chairs are permitted in the waiting room, many patients are seen curbside to pick up prescriptions, discuss concerns or have hepatitis C medications dispensed in dosettes. The clinic continues to deliver ambulatory and wound care, blood draws and vaccinations, as these services are all deemed essential for maintaining good health. Prescriptions for medications, opioid agonist treatment and safe supply are being written for longer durations. The healthcare staff observe the green, yellow and red zone restrictions within the clinic and designated direction of movement to avoid contact, as much as possible.
Unfortunately, we are no longer processing serology, antibody or genotype testing for hepatitis C because all provincial labs in British Columbia must prioritize COVID-19 cases. Hepatitis C testing will resume once we get a better handle on the pandemic. Thankfully, the requirement to prove genotype and RNA testing before accessing treatment has been loosened by B.C. Pharmacare. Perhaps this practice will be maintained once the COVID-19 pandemic ceases.
A flexible approach improves the patient experience
Triage on Fridays happens at the front entrance of the clinic where patients are asked if they have a cough, fever or any shortness of breath. We recently started taking temperatures prior to admission to the clinic. We are now in receipt of temporal thermometers which are less invasive and produce a result rapidly. Being at the front of the clinic, and intervening as a team, enhances patients' experiences in many ways. Because we need to be flexible in our approach, nurses, physicians and social workers will at times see patients for visits on the sidewalk. It really depends on what both patients and staff are comfortable with.
We've seen an increased demand for food, so we have been offering snacks, beverages, fruit and hot soup to patients from our hamper on a daily basis. We continue to offer harm reduction supplies, but people are no longer allowed inside the clinic to access the needle exchange service. Instead, materials are distributed through a window that opens up to the street. Unfortunately, movies are no longer playing in the waiting room for patient entertainment, and people aren't allowed to visit or hang out if they're not there to receive services.
How we have changed to respect physical distancing
The Pender clinic has taken numerous precautions in order to protect our healthcare workers, staff and patients. Receptionists have been moved to respect physical distancing. Many counsellors and physicians are working from home, providing consultation over the telephone. The clinic now has a structured direction for walking in hallways, designated isolation and COVID-19 testing rooms, and some areas off limits. Meetings of all staff in the clinic are held by video conference every morning prior to opening, instead of meeting together in the common area. These meetings are necessary to update staff on provincial directives and procedures that change on a daily basis as we learn more about the virus.
At the end of the day, working as a triage nurse, success is measured by having responded to patients' needs in a timely manner with a positive attitude. Patients should leave the clinic feeling good about their visit and not walk away in frustration because the new screening methods have caused delays or misunderstandings. It's a fine balancing act of respecting patients' and physicians' time, providing nutrition and freshwater, following infection control guidelines and trying to maintain patient confidentiality, regardless of whether you are providing care inside the clinic or at curbside.
We would like to thank Leslie for sharing her blog! It is interesting and motivating to hear how other nurses and their coworkers are managing within this 'new' standard of practice. Such a great example of how nurses work so diligently and compassionately for their client population.
We would welcome any other contributions from our members! It is great hearing how others are managing within their practise or clinic. How are you adapting to the changes? What innovative strategies are you using? Sharing stories of success, or even struggles and concerns, brings us together as a group. Please consider submitting an article, short or long, in one of our upcoming newsletters. We would be happy to assist with writing and/or editing.
CAHN's 2020 regional events merge and go virtual
Given the continuing impact of COVID-19 and the resulting restrictions, CAHN has decided to combine the two previously planned Regional Events, The Atlantic Hepatology Update and the Vancouver Autumn Update, into one engaging virtual conference. The date is tentatively set for October 23 and 24.
COVID-19 & Liver Patients webinar recording available
Many CAHN members expressed interest in CASL's special webinar – COVID-19 & Liver Patients. If you missed the live webinar, don't worry – a full-length recording of the presentations and live Q&A session is now available on the CASL website.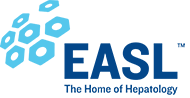 EASL – COVID-19 and the liver
This page is designed to provide you with an array of useful resources including articles, accounts from healthcare professionals, calls for abstracts, and statements related to COVID-19 and the liver. Click here: https://easl.eu/covid-19-and-the-liver/
EASL – The Digital International Liver Congress™ 2020
EASL has decided to transition the onsite International Liver Congress™ 2020, planned for 25–28 August, to an immersive and exciting digital event –The Digital International Liver Congress™ 2020, which will be held 27–29 August 2020. Visit the conference website at ilc-congress.eu for more information.
INHSU 2020 postponed
A message from Professor Jason Grebely, President of the International Network on Hepatitis and Substance Users:
Dear valued members and stakeholders,

It is with sadness, we would like to inform you that after extensive discussion and consideration, INHSU has made the difficult decision to postpone our annual conference. This means that we will hold our next major conference in Glasgow in the later part of 2021. We are currently working to secure dates and will contact you as soon as these are finalized.

The COVID-19 pandemic has had a huge impact on all of us. At all times, our priority is the safety of our members, staff, stakeholders and the public. Given the ongoing uncertainty regarding the progression of the pandemic, the disruption to travel and the impact on economies around the world, we believe the most appropriate course of action is to delay the conference until next year.

We are very conscious that many in our network are on the front line of the response to COVID-19 and are still responding to this global public health crisis. We do not believe it is appropriate to divert this important effort to activities that are required to plan and deliver a conference this October.

Many people have taken the time to write and submit abstracts and scholarship applications. Others have been reviewing these applications. We thank you for your ongoing commitment to our collaborative work. We will be contacting authors and reviewers separately but are committed to providing people with a range of options to ensure work undertaken to date will not be lost, but also provide the opportunity for people to update work given the changed timeframe of the conference.

We are deeply aware of the value of the conference, both in terms of knowledge exchange, and its role in connecting professionals from around the world. While we are unable to deliver a major conference in October, we do recognize that there will be a need for us to continue to connect to share our learnings, exchange knowledge and nurture professional relationships. As such, we will be creating opportunities for us to come together virtually and participate in a range of activities and events. We look forward to sharing our plans and inviting you to be part of these. We will be in contact when we have further details about these opportunities, as well as new plans around the conference. Please feel free to reach out to us about your ideas via info@inhsu.org.au.

Through this time, our thoughts remain with the patients, healthcare professionals, researchers and others who are responding directly to the COVID-19 pandemic. This time of global challenge has highlighted to us the importance of global endeavour and the value of networks such as INHSU. As we move through the pandemic, these approaches will be more important than ever.
Thank you for your understanding during these difficult times, we look forward to seeing you in 2021. We are grateful to everyone who has contributed to our conferences in the past and welcomes your input on those to come.
Visit the conference website at inhsu2020.com for more information.
Thank you to our Sponsors
---
---